When Western New York resident Isadore "Izzy" Bleckman was just beginning his career as a news cameraman, his employer, Movietone News – UPI, sent him to Dallas to do follow-up coverage of the assassination of President Kennedy. It was there that he recorded the moment Jack Ruby shot Lee Harvey Oswald, the alleged assassin.
On March 10 the 16mm Bolex camera he used to take the famous footage in 1962 brought $16,000 at Schultz Auctioneers' sale in Clarence, New York, in spirited bidding on the floor and phone. That vintage camera would ordinarily sell for $500 or less – without the provenance of its famous past. Bleckman was at the auction hall to sign a letter to provide that provenance.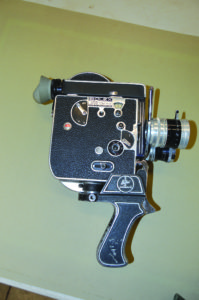 Kelly Schultz and his son Ben conduct regular antiques and estate sales at their unassuming Clarence auction facility. The willingness of the Schultz duo to sell a wide variety of estates, collections and consignments means that it isn't unusual for a five or six figure item to follow a $25 painting on the auction block. The sales regularly include the unique, like the Bolex.
A few years ago, the auction hall fell almost silent as a bidding war erupted for a Chinese moon vase that had been discovered in a local home and consigned to a sale. When the gavel fell, the price was $1.5 million. Another time, a Tiffany silver box the Duke and Duchess of Windsor had presented to the owners of a yacht they had used in Ontario sold for $19,550. So for the camera that recorded an iconic news event to come to auction at the Clarence sale wasn't that unusual.
Izzy is equally down to earth as the sale location. This reporter crossed paths with him several years ago when he was assisting a camera operator who was recording a Millard Fillmore Dinner in East Aurora. As we chatted, stories of Izzy's long career began to unfold, including how the famous footage of Oswald being shot happened.
Bleckman's long career took him to a number of historic events after joining CBS News. He was on the scene for the riots at the 1968 Democratic Convention, saw the first Apollo moon launch and was part of an exclusive press pool when President Nixon made his 1972 trip to China.
He probably better known in the industry for his work for years as the photographer for the Charles Kuralt "On the Road" segments on CBS. He traveled with Kuralt for years, filming across the country. In his 36 years with the network before his retirement in 2002, Bleckman was in demand for assignments.
SaveSave