The rare oak hall chair, by the incomparable Charles Rohlfs, sold on March 19th at Cottone Auctions for a record $306,000. The chair was from the estate of Jane Wolcott Steinhausen of Rochester, New York, in undisturbed condition, signed with the artist monogram and dated 1901.
At the turn of the century, the Buffalo region was an innovative hub of U.S. industry and at the center of the American Arts and Crafts movement. Western New York boasted the lion's share of the most influential figures such as Charles Rohlfs, Frank Lloyd Wright and Gustav Stickley.
Although considered part of the Arts & Crafts movement, Rohlf's masterfully pierced carved and ornamental furniture has wide ranging influences. From British Arts and Crafts to French Art Nouveau, to East Asian furniture, making his artistic style difficult to categorize.
"My designs are my own. I evolve them. They are like those of no other period nor people…I do not read Ruskin nor anybody nor anything that might influence my ideas. I never get them from books…They are mine and into their execution I put all my heart and force and that is why they appeal."

—Charles Rohlfs, House Beautiful, January 1900.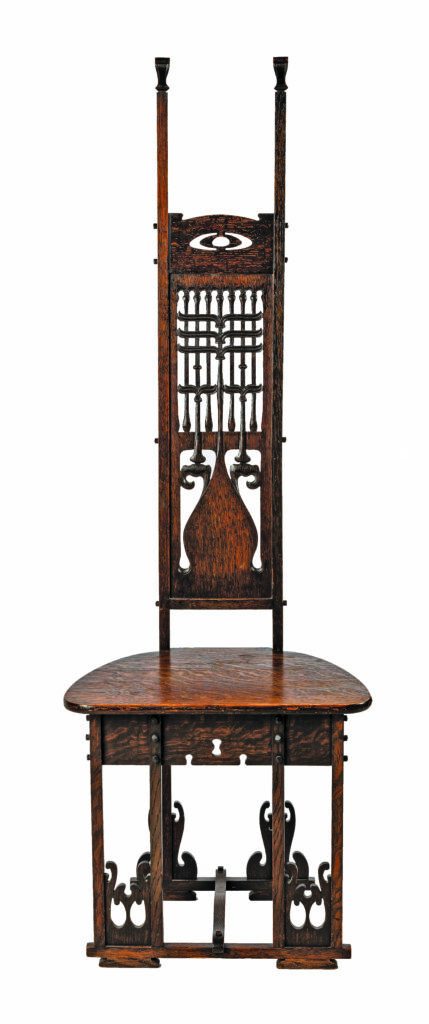 Rohlfs was the son of a cabinetmaker in Brooklyn and trained in design at the Cooper Union in New York City. In 1884, he married the popular novelist Anna Katharine Green (1846–1935), and by 1897 Rohlfs began pursuing a career as a furniture maker. He quickly had developed an international reputation for his work, earning entry into the Royal Society of Arts in London. Marshall Field's department store promoted his work around 1900; in 1901 he exhibited at the Pan-American Exposition in Buffalo; and in 1902, Rohlfs' designs were featured in the Exposition of International Design in Turin, Italy.
Rohlfs furniture would be described as "artistic furniture" or "the Rohlfs style," and truly in a world of its own. His work is included in the collections of the Art Institute of Chicago, Brooklyn Museum, Carnegie Museum of Art, Dallas Museum of Art, Detroit Institute of Arts, High Museum of Art, Huntington Art Collections, Los Angeles County Museum of Art, Metropolitan Museum of Art, Milwaukee Art Museum, Munson-Williams-Proctor Arts Institute, Museum of Fine Arts-Boston, Nelson-Atkins Museum of Art, Princeton University Art Museum, Saint Louis Art Museum, Toledo Museum of Art, Two Red Roses Foundation,Virginia Museum of Fine Art and Wolfsonian-FIU.
For more information regarding Cottone's upcoming sales, please visit cottoneauctions.com.