By Hope C. Thomas
While most associate the Impressionist Movement with 19th century French painters such as Claude Monet and Jean-Baptiste-Camille Corot, a significant American Impressionist movement was in play in tiny New Hope, Pennsylvania during the early 20th century. This was the first modern movement in American art and set the tone for those that followed including Cubism and Abstraction. Highly influenced by earlier French Impressionists, works of this movement represented the antithesis of academy art of the day. Largely defined by a limited and vibrant color palette, the technique used short strokes in immediate juxtaposition to interpret the effect of light on the subject. Scenes most often depicted spontaneous real-life impressions of the moment and were painted outdoors, referred to as "plein air" painting.
18th-C-Philadelphia-Queen-Anne-Mahogany-Tilt-Top-Table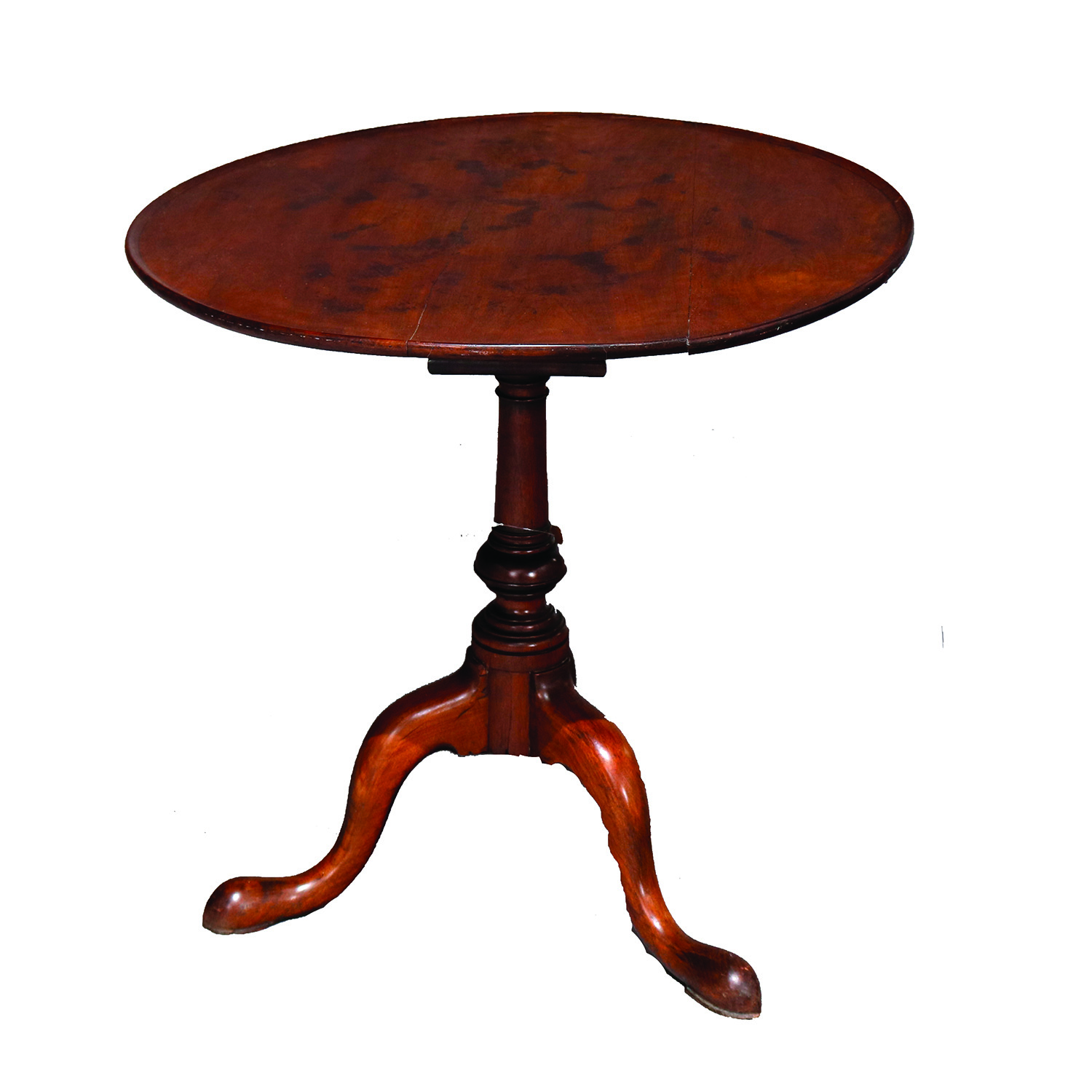 A newly discovered work by Esther M. Groome (1857-1929), noted Impressionist of the period and resident of Carlisle, PA, will be auctioned November 2, 2019 by Winfield Auction Gallery. Schooled at the PAFA with recognized artists such Edward Redfield, Daniel Garber and Walter Baum, Ms. Groome's styling with figure and landscape seems to take its cue in color and composition directly from the New Hope School via the French influence. This work is a striking example of the New Hope School's impact on this important artist's work with similarities to the works of Arthur Meltzer and George Sotter. This work is particularly significant for its large size and subject as Ms. Groome rarely painted landscapes, with only a select few known works which include figures. Appropriately seated in a giltwood Newcomb Macklin frame, frequently used by New Hope School artists, this important oil on canvas is sure to draw attention.
Additionally, this event will offer fine art to including a Douglas Arthur Teed orientalist work (View of a Mosque), a G. W. Waters seascape oil on canvas and many Neoclassical and historical sculptures in bronze, marble and alabaster including an important and rare pair of monumental French Napoleon III parcel gilt and crisply detailed bronze sculptural candelabra depicting Anglo Indian figures beneath parcel gilt palm trees having a deep brown patina. Leading the lighting category is a diminutive Tiffany glass banded acorn lamp exhibiting excellent color and contrast. Offerings of Persian and Caucasian rugs include a rare 19th century Caucasian Dragon Soumak with highly stylized dragons and an unusual running dog border, an early 20th century inscription signed large Mohtasham Kashan with its exceptional Manchester wool sheen, and a Kuba Perepedil rug.
Other categories include fine porcelain with monumental Meissen urns, Sevres and KPM as well as a private selection of artist signed art pottery by Rookwood and art glass including Lalique, Baccarat, Steuben and Tiffany. Collectibles include a military issued WWII leather bomber jacket and a rare Fada L-56 radio in green and butterscotch catalin. In furniture, a large selection of 19th and 20th century American and European includes early Philadelphia Queen Anne, Stickley Arts & Crafts and Mid Century Modern.
The Winfield Auction Gallery Antiques, Fine and Decorative Arts Auction is being offered Saturday, November 2, 2019, beginning promptly at 12:00pm EST. Preview hours are Wednesday through Sunday, 1:00pm-4:00pm EST beginning October 25, 2019 in Gallery II of Antique Revival, 26 Palmer Road N, Big Flats, NY 14814. Although the auction is being offered online through LiveAuctioneers.com and Invaluable.com, bidders are welcome to phone bid or place absentee bids with arrangements made in advance. For additional information visit www.winfieldauctiongallery.com, email wags.auctions@gmail.com, or call (607)438-3082.