On the day after Thanksgiving, thoughts turn to gift shopping, holiday decorating and searching for the perfect Christmas tree. For many families, setting out yard decorations is a longstanding Black Friday tradition that engages everyone throughout the day. It's the season to pull out those illuminated extruded-plastic blow molds of Santa, the Nativity, angels, and Disney characters – decorations that have evoked nostalgic childhood memories for generations.
Blow mold figures have grown to be so beloved that enthusiasts and collectors shop all year 'round to find prized additions for their holiday landscape. Their second-hand treasures are found at flea markets, garage sales and antique malls. Newly produced items could be found at the neighborhood hardware store and big-box department stores. While they may be constructed as a simple light bulb mounted inside a colorfully painted extruded-plastic form, blow molds deliver megawatts of holiday cheer and fond memories.
From mid-century through the 1990s, numerous plastic blow mold manufacturers closed. Beco, Poloron, Santa's Best and others are just a few well-known blow mold houses from the now bygone era. Serious collectors continue to search for their characters and frequently pay premium prices to own a piece of blow mold history.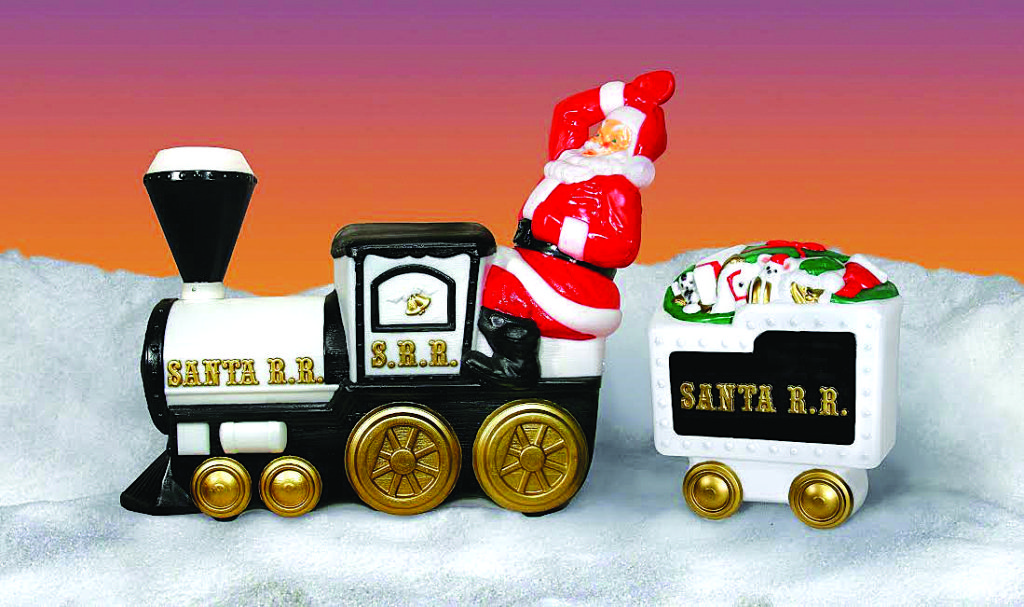 Sadly, after 60 years of plastics production in the USA, the most recognized and largest U.S. maker of blow molds closed its doors in 2017. General Foam Plastics, headquartered in Virginia Beach, shut down its production facilities in Norfolk, Virginia and Tarboro, North Carolina. Long-time workers were released, final orders shipped and remaining product inventory sold. Plant assets were sold at a public auction in March 2018. As news and industry publications noted, like many other U.S. manufacturing firms, the company succumbed to foreign competition and aging facilities.
General Foam maintained the rights to produce its own copyrighted designs as well as those of predecessor figures from Empire Products, Carolina Enterprises and Judith Novelty. As competitors Beco, Poloron and Santa's Best closed, General Foam/Empire purchased their mold forms.
Since the 1950s, Empire and General Foam's famous Nativity Scenes have appeared under mangers in churchyards across America. Similarly, Santa figures have stood tall, peering at shoppers from small-town department store windows or been part of the holiday scenery in TV movies. The company also produced blow mold selections for Easter and Halloween that remain popular with collectors. If a child carried a pink, orange, purple, blue or black pumpkin-shaped treat pail at Halloween, it most likely was manufactured by General Foam/Empire.
Union Products of Massachusetts, known for Don Featherstone's iconic pink flamingo, had ceased blow mold production in 2005. The company was acquired by Cado Products Inc. circa 2009. A glimmer of hope for collectors: last year, Union Products reintroduced a limited line of Christmas blow molds. Cado President Bruce Zarozny stated that production began with classic figures such as a Santa, the penguin and a nativity scene. This seasonal line will be expanded in the future; currently offered products can be found at various hardware stores.
Given the duration and breadth of General Foam/Empire's Christmas production, buyers may be able to find pieces at auctions, yard sales, flea markets and antique stores for several years. However, a word to the wise: shop now – resale prices have risen significantly this year. Choice items such as the Santa Train and Coal Car (red) were available last year at asking prices of $225 to $400. EBay listings are posted in 2018 between $499 and $799. Owners of the earlier "green and black" train model are fortunate to have a scarce, premium piece. More common 13" candles, snowmen, and Santas could be found in 2017 for $12-$18. This year, demand is driving prices upwards, reaching $20 to $35.
When buying blow molds online, auctioneers may specify "local pickup only" due to their size, packaging requirements and shipping costs. If you are lucky enough to find a local business with new "old" stock, don't debate. Supply of larger and unique pieces with limited production will disappear quickly. Unlike those foreign-made inflatables of the 21st century, the demand for American-made blow molds will grow, not deflate, in the pre-and-post-Christmas 2018 season.